It has launched!!
It's FINALLY here!
Check it out…
The Home Business Radio Network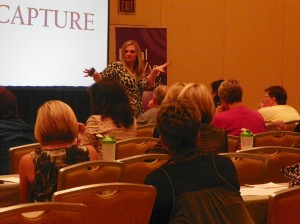 Have you ever heard the expression…
Sitting at the feet of masters?
Well that is exactly what I did this weekend.
As many of you know…I was a featured speaker at The Real Savvy Success Event
in Orlando,Florida.
I was so thrilled to be asked and so pleased to share some of my unique marketing
systems with a whole new crowd.
And I knew I would be sharing the stage with some of the most powerful women
in Network Marketing and Direct Sales…
Several of them I have heard speak many times…
Each time gaining new information, perspective and motivation from their talks.
But this time was DIFFERENT for me.
As this time…as opposed to being an audience member…
I was standing next to them as a true colleague.
And this time I realized…
That no matter how good I have gotten at my profession…
These ladies are TRULY the MASTERS…
And that I have MUCH to learn.
Much sculpting to do to my own message in order to make it as powerful as possible.
Much work to do on myself.
And for a moment I stood still and thought to myself…
I am SO PROUD to be up here with these ladies…
And SO PROUD that even in a moment of TRIUMPH like that
I could still step back and be the student.
For in the end…does our learning ever end?
And don't we owe it to ourselves to become the best we can be???
And most of all…
Don't I owe it to my students to become as good as humanly possible
at creating messages to deliver from the platform that move them…
That transform them…
That give them HOPE and CLARITY.
That help them see exactly who they were meant to be?
I'd like to send a very special thank you to all the ladies
who spoke this weekend…particularly those who have walked before me
and showed me a WAY that I didn't see before.
All my mentors have been men.
Now I have a new SISTERHOOD of women to look to for
guidance and that is TRULY something to be THANKFUL for.
Remember the song…
Leaving on a jet plane…
Don't know when I'll be back again…
OK…I DO know when I'll be back.
Monday afternoon to be precise.
4:07 pm.
Right now I am sitting in the Cleveland airport ready to get on a plane to
go to the VERY FIRST Real Savvy Women's event EVER in Orlando.
And YES…as usual I overpacked…
And YES…I am excited beyond words to meet so many people
that I have admired for SO LONG.
And most of all I am HONORED that the organizers have invited me to address the crowd.
There are SO MANY events in the home business industry.
High tech, low tech, attraction marketing, belly to belly marketing…
But THIS event is extremely important because it is rotating around the heart and soul of this industry…
THE WOMEN.
The mothers…who not only rock the cradles of their families but rock the cradles of their opportunities.
This event has been a long time coming and I am THRILLED to be a part of what I expect will
become a rich tradition in the home business world.
So to all you ladies (and gentlemen) that I willbe seeing this weekend…
Let's ROCK IT!