Recently I posted a video slide show with some great pictures from my
past 4 years of business.
In the video was a great song…
I think it's called I Believe In Me and it was provided by the
service I use to make those snappy videos
You can hear it here if you missed it.
So anyway…
Most interesting thing happened.
I kept getting emails asking me about the song…
Where did I find it…
How do you get it etc.
And the requests really made me stop dead in my tracks
Why was this song so darn appealing???
Why did everyone want it…
And why is it so darn hard for people to believe in themselves?
And if we do not believe in ourselves are we setting ourselves up
for failure when we begin a home or small business???
It may sound airy fairy but aren't these questions more pressing
than how to generate 10,000 leads a day or how to optimize our wordpress blogs?
For deep down inside if  we don't believe in ourselves aren't we just TELEGRAPHING that
in every marketing piece we turn out?
My mentor taught me that in order to be successful we were responsible for
building ourselves to be TEN FEET TALL AND BULLET PROOF.
He taught me that until I believed my own sh#t that no matrer how hard we worked
that no one else would believe us either.
And over the last 11 years I have worked very hard on all my skill sets but
the thing I have always worked hardest on was ME and my SELF BELIEF.
So tonight as I get ready to turn in I wanted to tell you that I have the FORMULA
to becoming the person you want to become…LIKE A ROCK…never wavering and FEARLESS
And that answer lies in a little yellow book and a community of CRAZY PEOPLE that
are consistently BUILDING THEMSELVES and their buddies up.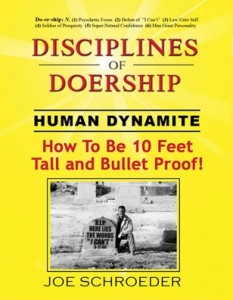 I carry this sucker with me pretty much 24/7 and depend on it like I depend on AIR.
Want a copy?
Call 800 772-9781 ext 10 and find out how you can get a copy and 4 cds (24 hour msg)
for a few bucks and then COMMIT to use it EVERYDAY for 30 days and watch what happens.
If you do decide to get the book make sure you tell em that I sent you so that we can take good care of you.
And of course so I can make sure you get invited to all the secret "brainwashing" calls <wink>
And hey…
It's up to you…
You can spend $13 here for a complete mind changing system or spend another
grand or two on a marketing launch.
You decide.
I just wanted to make sure you that you knew where I get my STRENGTH from.
It sure as heck was NEVER a marketing course.
Everything lied in the self work.
The magic sat right inside of ME…
And I promise you that you have possessed your own magic all along.
Just no one gave you the key to unlock it.
I am today.
To believe me  or not to believe me…
That is the question this fine day.
And that is YOUR CHOICE.