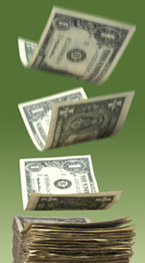 People think I am CRAZY…
Even after 11 years in the home business industry
I STILL sniff around for that ONE LITTLE TIP
That one little itsy bitsy piece of info that I can use
You never know exactly where you are going to find it…
So I have daily rituals of places I "troll" for information.
Because of this I found Attraction Marketing BEFORE it was even called Attraction Marketing…
I incorporated funded proposals into my sales process long before anyone in this industry knew the term and
I learned how to have folks PAY ME to prospect them!
I got into PPC before it cost an arm and a leg and I promptly left when it got expensive and crazy
but in the mean time built a big fat responsive list!
I got into video marketing before anyone knew what a stinking VLOG was…leveraging a new technology
to put myself in front of thousands of new prospects a day and building a brand that has lasted all this time
I fooled around with mobile text marketing a few years ago and decided it wasn't gonna be huge (maybe I'm wrong)
And still today after all this I read and watch content from leaders and new guys alike looking for that ONE IDEA
that I can run down the field with.
Cause as I always say…it's a lot easier to make a touchdown when the field is EMPTY!
So my question to you today my friend is….are you waiting to be TOLD WHAT TO DO…
Or are you personally searching for that one little tip or idea that could catapult you to wild success?
It only take ONE TIP…
One little nugget and you are off to the races IN FRONT of everyone else!