Back when I was just starting out I dreamed of standing up on the
stage at my M.L.M teaching and training folks…
I suppose I am just a teacher by nature so it always appealed to me
to get up there and show people how to do stuff.
But as i got introduced to internet marketing I saw a much bigger
classroom and decided it was my "assignment" to help people
with their home businesses and show them stuff it took me
YEARS to learn so that they could make money much faster than I did.
If you have been to any of my live classes you KNOW how much
I love to do this and how much I CARE about helping people out.
So when this morning's Magnetic Sponsoring Newsletter dropped into
my inbox I was just FLOORED to see what they wrote about me.
This is the stuff I used to just DREAM about…
And not so very long ago.
So let me just let you read it as opposed to trying to tell you
what they said
******************************************
The "Secret" Psychology Of Magnetic Sponsoring…
They say this business is a people business.
I say that's 100% true!
The people who are going to join your team, opt-in to your website, or buy from your company are flesh and blood human beings like you.
They have good days and they have bad days like most of us…
They are skeptical like most of us.
They don't believe everything they hear. They generally don't trust strangers. They only buy from people or companies they know, like, or trust.
That's how they protect themselves and their families…
Unfortunately, that also means that the majority of men and women on our planet are driving on the highway of life with a blindfold on…
They are blind to opportunity…
They WON'T listen to YOU no matter how honest you are…
But strangely enough…
They will listen to celebrities…
We're not just talking about Tom Hanks, Oprah Winfrey, Rachael Ray, or Morgan Freeman. We're talking about the celebrities in their own fields too…
We're talking about the Mike Dillards, Tim Erways, Norbert Orlewiczs, Brian Fanale, Diane Hochmans, and Ann Siegs of the world…
The celebs in our slice of the Internet…
It almost makes prospecting, recruiting, and selling effortless…
That's why I prefer to work with celebrities…
No more "hair pulling" for me…
Take it from somebody who did things the hard way…
Now, TOMORROW NIGHT, Diane Hochman is going to reveal exactly how she has been able to create a "cult-like" following, and use simple psychological triggers to build her celebrity status and "print cash on demand".
You're invited to attend if you've already purchased your tickets to the big event in October, The Live The Dream II Event in Orlando:
Here's a "taste" what you will learn on this bonus webinar:
* How to become an instant "marketing celebrity" on the biggest social media sites even if you're still wet behind the ears.
* How to leverage the top leaders to grow your presence, build your list, and explode profits. (this is huge especially if you're brand new)
* The "underground" secrets that will cause people to become so obsessed with you that they will do almost anything to help you out.
* The 3 biggest errors people commit that cause them to look foolish online and therefore destroy their chances of making any m*ney.
But there is a "catch"!
The "catch" is that this exclusive training is a bonus training session for our Live The Dream II Event ticket holders ONLY!
That means, if you haven't got your ticket here yet…
You are going to miss out big time!
Don't make that mistake.
There's still time to purchase your tickets to LTDII here…
The Live The Dream II event will be held live in Orlando…
October 22nd & 23rd…
*****************************************************
This is gonna be a CRAZY bang up class that you DO NOT want to miss.
And tonight and tomorrow afternoon as an APPETIZER I will be sharing
a bit about what I will be covering as well as walking you through the
ATTRACTION MARKETING PROCESS and showing you how I
use it to create check after check of RETAIL AND RESIDUAL INCOME
Check out our weekly
Webinars Gone Wild
9 pm est Mondays
3 pm est Tuesdays with Rachael Macgregor
***************************************************
The public webinars are full of little tidbits to help you out…
Little tips and tricks…
In the PRIVATE webinar I will be going and blowing sharing stuff that
virtually NO ONE in this industry knows…
2 hours of insight into EXACTLY how I do what I do.
How did I get Better Networker, Magnetic Sponsoring, No Excuses and
Live the Dream (MLSP) to endorse me and write about me and speak about me
and let me speak on their stages.
How EXACTLY did I get this magazine cover?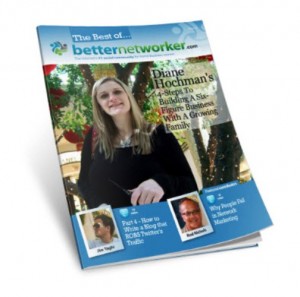 And how can you do it too?
Look…you can take the hard road or you can take the EASY ROAD and
learn how to leverage OTHER PEOPLE'S audience and CREDIBILITY.
Talk about getting 100 leads in a day!!!
How bout 100 leads that are in LOVE with you and who think you are a
total expert…
Ya think those might convert a little better???
But hey…
You can save money…not grab a ticket and skip this class
Up to you!!!
Me…I'd spend THOUSANDS for this info and you can get it
and 7 other celebrity marketers classes for $25 each…
Plus when you grab the classes from me you get a bonus private
webinar from me on Crafting Irresistible Offers That Cause People
To Throw Credit Cards At You PLUS a HIGH LEVEL live workshop
the day before the live event.
It's pretty much a no brainer…
And this time it's not me telling you how great it's gonna be…
It's the most TRUSTED resource in the industry…Magnetic Sponsoring.
Get Your Ticket To this stunning class  HERE
And I'll see you in my Webinar Gone Wild TONIGHT!