I am smiling as I type the headline…
Man I can't believe it's been almost 4 years…
Back before social networking was all the rage…
Back before anyone even realized that sites like Facebook would go mainstream in a BIG way…
There was BetterNetworker.com
And a handful of us CRAZY internet marketers that KNEW we had a hold of something big.
The year was 2007 and Attraction Marketing had taken it's grip on the Industry and everyone wanted to learn about it
And there we were…a group of yahoos…having the time of our lives!
I remember the day Mike Dillard asked me to join the instruction team at the site.
I was so honored …still am.
And today I am more honored than ever to be a part of the new interview series that the site is coming out with.
BetterNetworker.com had all access at the recent No Excuses Summit in Las Vegas and after each speaker took the stage they grabbed us and put us in a room and GRILLED us (just kidding) right while we were juiced up from speaking so we would give Better Networker memebers the very best stuff we had.
Those interviews are coming VERY SOON…
But in the mean time here's a copy of the Best Of Better Networker Issue we did last year..
Maybe you missed it and would like to grab a copy.
It was locked up in the Better Networker Vault but the guys opened it up just for YOU!
Click on the picture to grab a copy.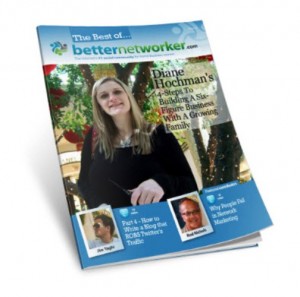 And if you are not a member at BetterNetworker.com.…
What are you waiting for!!!
See you over there!!!!