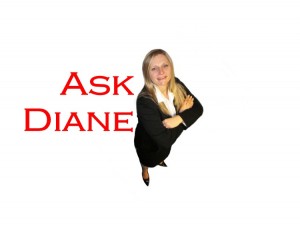 I met a fab chick out in Vegas at the No Excuses Summit and she sent me a note on Facebook
asking me all kinds of questions about marketing and I answered and told her I would probably share it with ALL OF YOU …
So here are the questions and below are the answers.
Let me know if you have any further questions by leaving me a comment
and I'll do my best to answer.
Hi Diane! Oh boy, do I have some questions for you!!!! If you don't want to answer them for free, I understand, just please let me know.
I LOVE the concept of video marketing, so I want to jump in and get going on it, starting with all the fantastic stuff I learned at NEII (but of course NOT in enough detail that I diminish the value of actually paying for and going to the summit!)
So my questions…I make a video that's fun and entertaining and helps solve someone's problem. And…
a) What type of video camera do you use? 101 stuff, I know, but I'd love to know.
b) I post it to my blog, to Youtube. Anywhere else? How do I syndicate it – blow it out to the masses? (Like Article Marketing Robot does for articles, and could do for this of course, but I wanted to see if you use something else.)
c) Do you direct them initially to your blog, to a capture page, or to your business website? And now that the no-pitch restraints are off, may I ask…what is your business?
d) Then do you respond to your leads via internet or telephone? BTW, I LOVED LOVED LOVED that you said I would only get ONE canned email from you!!!) You're awesome. Whether you answer these ?'s or not!
I use a JVC everio—but any old camera will do…The Kodak ZI8 is a great little pocket one…
I use Traffic Geyser to circulate my videos..have for 4 years…this also does audios and articles so it's one stop shopping.
I also use TribePro to syndicate my stuff.    That is the link to my syndication tribe where a lot of my gang hang out.
I do not use Article Marketing Robot..looked at it but passed…at least for now.
Didn't like it but I heard they have improved it.
I send traffic to either a capture page or my blog.
I have my own website system with my partner Michael if you want to look at it you can go HERE (free trial)
And now the weirdest answer of all…I do not "respond" to my leads..I "romance" them I "coax" them and I play "peek a boo" with them until they are dying to hang out with me and they buy something.
Sounds nuts…but it is what I do 🙂
It's advanced technique and what I teach to my clients.
Works like gangbusters!
Anyways…
Hope that answers your questions…
Diane
Now…here is the one thing that I did not answer…always makes me NUTS…
I was asked…"what is your business?"  In other words…what MLM are you with?
This questions makes me kinda LOONEY TUNES in that I just don't vibe with the idea of saying that MY business is anything but the business of Diane Hochman.
Why would I identify my business by the name of a product line I carry?
Does Walmart?
Does Home Depot?
Does the local supermarket?
I distribute products and services from many companies…
That does not make me that company.
Call me a rabble rouser but I have just never gotten that concept of labeling what I do with the name of another company.
My business is helping people with THEIR businesses…
Plain and simple…
SO I sell products that assist my clientele with what they need to accomplish.
And yes…a few of those products have a multi level compensation plan.
But those products are NOT "what I do"
They are just services that help achieve my business objectives.
So I hope that makes sense to a few people out there 🙂
Happy to talk more on this concept if this helps you at all.
What is your business?
Who is your market?
How many things do you have available to help "your people"?
That's how I think 🙂