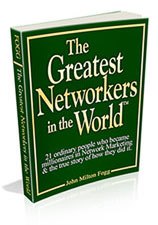 Who exactly are the greatest networkers in the world?
And what exactly makes them THE GREATEST?
In his soon to be available book The Greatest Networkers John Milton Fogg explores just that.
He gathered and interviewed 21 of the most successful networkers of all time..
He picked their brains and pulled them apart and decoded EXACTLY what the common denominators between networking millionaires are.
Take a look at who is in the book and then join John and me as we spend some time together discussing what it takes to become a GREAT NETWORKER and to earn millions in the profession.
9 pm est June 29th
Dial In
414 944-0004
Pass code 9774024
The Greatest Networkers
Here's a listing each of The Greatest Networkers in the book.

Jordan Adler is the author of the best-selling book Beach Money. Although he didn't sponsor a single person in his first 10 years in the business, he's now the #1 distributor in his company with more than 60,000 people in his organization and earns over $2 million a year.

Margie Aliprandi has been with one company for 21 years, and has a network of "a few hundred thousand" around the world. Starting as a single mom with three kids, Margie couldn't afford hotels, so she slept in her car and got dressed in gas station bathrooms. Today she is a Network Marketing multi-millionaire.

Lynn Allen-Johnson stood in line for food stamps and raised two kids as a single Mom just over the poverty-line. Lynn found Network Marketing in her 50s. She's been the winner of her company's Presidents Award, one of the top 10 income earners and is a member of their Million Dollar Club.

Richard Brooke made his first million before the age of 30, advancing to the top position in a $60 million Networking organization of more than 200,000. Richard's had a successful career as both a Network Marketing leader and corporate executive since 1977, and he's the author of Mach II With Your Hair On Fire.

Art Burleigh After nine years of Network Marketing "educational experiences," Art joined the company he would stay with for 14 years. He sponsored 12 people right away. Eight went to sleep, 4 went to work, and from that group Art built an organization of more than 150,000 team members who earned over $54 million.

Eddy Chai built successful cafe, restaurant and real estate business in Vancouver BC before he lost everything. He flew to Taiwan open his company bankrupt, a stranger, not knowing the language. Eddy went on to build team of over 3 million people and today owns his "Revolutionary Network Marketing" company.

Ken Dunn spent the first 15 years of his adult life as a police detective. He has successfully built multi-million dollar businesses in four different industries. In his first 5 years in Network Marketing, Ken traveled to over 21 countries, spoke to over 100,000 people and became a million-dollar income earner.

Sandy Elsberg was an ex-school teacher, nine months pregnant with her second child, with swollen ankles, no health insurance and $250,000 in debt when she learned about Network Marketing. Today she is an industry legend, author of Bread Winner Bread Baker and a multi-million dollar income earner.

Randy Gage may know more about the science of the MLM Network Marketing than anyone in this business. Five years ago, Randy got back in the business as a distributor. Starting from scratch, he quickly rose to become #1 in his company earning more than $1.5 million a year.

Sven Goebel graduated with a PhD in Science. He has been working with his company since 2001, and is a member of their Chairman's Club and the company's European Advisory Board. He leads a global organization of more than 50,000 partners and currently earns a six-figure monthly income.

John Haremza was severely dyslexic and considered "stupid" by all his teachers, fellow students and even by his parents. Today, the former maintenance-man leads 10?s of thousands of Networkers on his team and has earned more than $11,000,000 in his Network Marketing career.

Donna Imson was a young and struggling single mother of three living in the Philippines when she decided to try her hands at Network Marketing in 1993. She went on to become a founding member of her company in 1998 and today has more than 5,000,000 men & women in her world-wide network!.

Beth Jacobs began her career with her party plan company after 10 years teaching high school. Her goal was to supplement the family income to save for college and retirement. Today, she has become one of only 20 National Executive Directors and her team is responsible for more than $27,000,000 in sales.

Donna Johnson is a former swimming coach who today summers with her family on a lake in Northern Wisconsin and winters in a secluded retreat in Cave Creek, Arizona. She been with her company for 23 years. Donna is her company's 1st National Vice President and their #1 income earner.

Frank Keefer was a successful corporate executive, entrepreneur, a Green Beret and a U.S. Army Ranger, a world-class parachutist, a high-ranking black belt and a scuba and mountain climbing instructor. He has helped to create more than 300 millionaires in his company.

Robert Middleton is a 20+ year veteran of Network Marketing who began his career with National Safety Associates where he was one of the top 20 in a network of over a million. He's consistently earned more than $2 million a year and is one of the Network Marketing industry's top trainers and motivators.

Warren Nelson is a Harvard MBA and was directing an electronics corporation when he & his wife Mary discovered Network Marketing. The couple has been with three companies in their career—and been at the top income level of each one.

Linda Proctor left the lucrative financial planning company she founded to dive into Network Marketing quickly working her way to the top of her company earning millions of dollars. Linda walked away from $900,000 a year to start all over and has once again rocketed to the top.

Sarah Robbins was a soon-to-be out of work kindergarten teacher when she joined her company, who gave up their successful retail business to go Network Marketing. In only 2 years, at age 28, Sarah became the company's #1 Consultant. She's on track to earn in excess of $1,000,000 this year.

Ørjan Saele visited America in 1997 as a young Network Marketing neophyte. He went back and sponsored over 125,000 distributors, five percent of the population of his home country Norway! Today, Orjan owns his own Network Marketing company. He's a successful author, speaker and MLM multi-millionaire.

Carolyn Wightman After a pioneering in the Peace Corps, Carolyn was searching for a viable way to earn a living. She joined one of Network Marketing's oldest & most respected companies and has been with them for over four decades. She's a Presidential & Lifetime Master Coordinator and MLM multi-millionaire.
Again…we'll be meeting at 9 pm est June 29th
414 944-0004
Pass code 9774024#
Want the audio set while you are waiting for the book to come out?
Check out The Greatest Networkers In The World